Wer ist online
We have 316 guests and no members online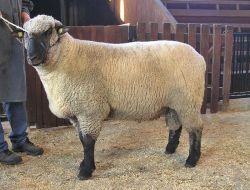 At almost 18% breed share the second most frequent sheep breed in Germany. Fast growing meat sheep with marked muscling, i.e. deep, wide, prominent breast, deep , broad body with a long back that is broad, firm and well-muscled. A wide and long pelvis with full muscled outer and inner legs that reach far down, good carcass quality.
Good early maturity and fertility at early, very long lasting mating season. Mating of hogget is already possible with the first year.
Very adaptable and resistant in all forms of management, excellent grazing, walking and pen holding ability, also very suitable for paddock-holding. Head and feet are black and not too strongly covered with wool The white wool is a crossbred wool with an even C/CD assortment (33-35 micron).
Weight (kg)

Vleece-Weight (kg)

Fiber diameter

(Microns)

Lambing percentage
(%)

Height at withers (cm)

Hull length (cm)

Mature ram

120-160

5,0-7,0

32 - 36

80-90

95-105

Yearling ram

90-120

5,0-6,0

75-85

90-100

Lamb (male, 6 month)

60-80

Mature ewes

70-100

4,0-5,0

150-200

150-200

70-80

80-95

Lamb (female, 6 month)

50-60

Daily gain: 400 - 500 gram, slaughter yield: 48 – 50 %