Wer ist online
We have 547 guests and no members online
Bundesweite Jungzüchtermeisterschaf...

Nach der letzten Jungzüchter Meisterschaft in Leipzig 2019 bekamen Schafbegeisterte Kinde [ ... ]
weiterlesen
4. Schaftage Nord-West in Cloppenbu...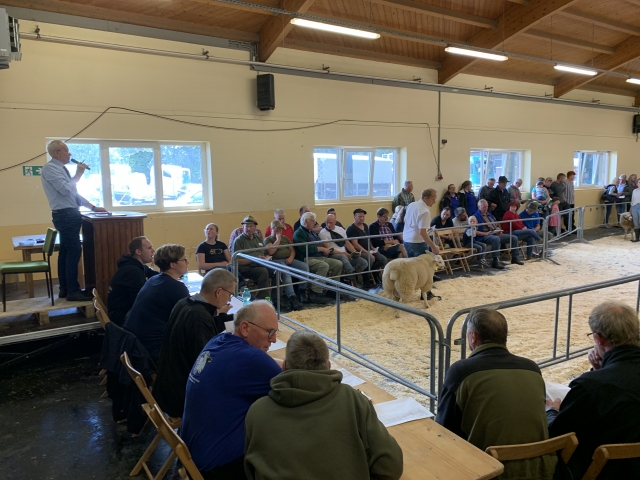 Der Landes-Schafzuchtverband Weser-Ems veranstaltete am 03. und 04. August die 4. Schaftage Nord-W [ ... ]
weiterlesen
Welcome to the common homepage of the sheep breeders association of Lower Saxony.
As a consulting organization you can contact us in questions of breeding, keeping and feeding of sheep. We also organize and manage (sales events such as) auctions.
We are exporting sheep (East Friesian Milksheep, Suffolk, Blackheaded Meatsheep, Texel) to different countries within and outside Europe.
Five auctions are scheduled to take place in Lower Saxony in the summer months. One site of auction is in Cloppenburg. It is recognized as an European collecting point. Breeding stock (East Friesian Milksheep, Texel and Berrichon du Cher) can be directly loaded and transported to other Eurorpean countries. The next public sale called "Sheep days North-West" will be on Thursday, the 4 August to Friday 5 August 2022 in Cloppenburg. We are looking forward to see you. For further informationen please contact the office.
Every other year sheep of selected breeds are presented at the "EUROTIER" fair in Hanover. The next fair fair will be from the 12.-15. November 2023. The fair stands will be organized by the sheep breeders associations from Lower Saxony and Bavaria. There will be different breeding sheep races as: Merino Landsheep, East Friesian Milksheep, Texelsheep, Suffolk, Blackheaded Meatsheep, Merino Meatsheep, Coburger Foxsheep and the Dorper.
All races are of high interest for exporting. For more information you are invited to visit us on our fair stands. We talk English and Russian. We are proud to present the diversity of races and the high quality of the German sheep breeding.

We are looking forward to your email or to your phone call:
Name
Sprache
E-Mail
phone:

---

Michael Gertenbach
(German, English)

This email address is being protected from spambots. You need JavaScript enabled to view it.

+49 (0)441-801617

---

Klaus Gerdes
(German, English)

This email address is being protected from spambots. You need JavaScript enabled to view it.

+49 (0)441-801611

---

Mathias Brockob
(German, English)

This email address is being protected from spambots. You need JavaScript enabled to view it.

+49 (0)511-36654485

---

Oleg Faber
(German, Russian)

This email address is being protected from spambots. You need JavaScript enabled to view it.

+49 (0)511-36654495

---
Here you will find summary information on breeds in Germany. For the East Friesian Milk Sheep, the Texel and the Blackheaded Meatsheep you will find detailed information. For the other breeds we´ll be happy to forward additional information on request:
---

Merino breed in Germany

Merino meatsheep

Merino landsheep

Merino longwoolsheep
---

Meat sheep breed in Germany

Berrichonne du Cher

Blueheaded meatsheep

Charollaissheep

Hampshire

Ile de France

Leinesheep

Suffolk

Whiteheaded meatsheep

Zwartbles
---

Landscape breed in Germany

Bentheimer landsheep

Charmoise Hill

Coburger Foxsheep

Gotländisches Pelzschaf = Gotlandsheep

Gotländisches wildsheep

Grey Horned Heidschnucke

Jakobsheep

Kerry-Hill

Ouessantsheep

Rauhwolliges Pommersches landsheep

Rhönsheep

Romanow

Scottish Blackface

Shropshire

Skudde

Soay-sheep

Walachensheep

Waldsheep

White Horned Heidschnucke

White hornless Heidschnucke = Moorschnucke

Zackelsheep

Zaupelsheep = Cikta-Schafe
---

Mountain sheep breed in Germany

Alpine Stonesheep

Brown mountain sheep

Brillensheep

Geschecktes mountain sheep

Krainer stonesheep

black-brown mauntainsheep = Juraschaf oder Elbschaf

Tiroler stonesheep

Walliser blacknosesheep

White mountainsheep
---

Hairsheep breed in Germany

Dorper

Kamerun sheep

Nolana-meatsheep

Nolana-landsheep

Wiltshire-Horn