Bundesschau Schafe 2022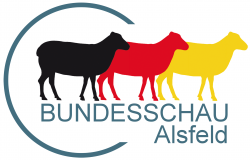 Verschoben auf 2022!
wenn wir weitere Info´s
haben, finden Sie diese hier!
Wer ist online
We have 250 guests and no members online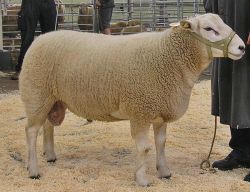 Medium to large framed, very well-muscled an uniformly white meat sheep with bare head and legs. Dark or black spots are only permitted on the ears and around the mouth. The neck is relatively short and strongly muscled. The body shows a long broad back with broad loins, well-bent ribs, a broad deep breast and good depth of flanks. The pelvis is long and wide, the inner and outer legs are particularly well-muscled.
Originating from the Netherlands, this breed is strongly represented in Northern and Western Germany. It is perfectly suited for paddock holding. Texel Sheep should be kept mostly in more favorable environments, e.g. the marshes and productive pastures at lower to medium altitudes. The rams are well suited for cross-breeding.
Weight (kg)

Vleece-Weight (kg)

Fiber diameter

(Microns)

Lambing percentage
(%)

Height at withers (cm)

Hull length (cm)

Mature ram

115 - 145

4,0 - 5,0

32 - 36

80 - 83

92 - 102

Yearling ram

100 - 120

4,0 - 5,0

79 - 82

88 - 100

Lamb (male, 6 month)

55 - 70

66 - 72

75 - 80

Mature ewes

70 - 80

3,5 - 4,5

32 - 36

160 - 190

72 - 80

80 - 87

Lamb (female, 6 month)

50 - 60

64 - 68

70 - 76

Daily gain: 380 – 450 gram, slaughter yield: 48 – 52 %