Wer ist online
We have 443 guests and no members online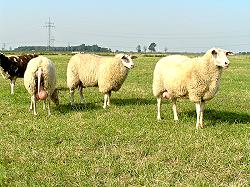 The milk sheep – originally from East Frisia – has spread throughout the Federal Republic. In the early 18902 the planned breeding of the milk-sheep began. It was acknowledged as an independent breed in 1936. The whit milk sheep is predominant; in recent years a variety with dark brown color is also being selected. The successful adaption of milk sheep proves its good adaptability particularly in hill country. Milk Sheep can bear the cold but are sensitive to heat. In hot climatic zones with high sun radiation the brown variety is said to be more adaptable. Milk Sheep are especially suited for single and paddock holding. Large framed sheep with good muscles. The head is fine, dry polled and bare, slightly ram-nosed with adequate length and shiny cover fleece. The deep and broad body has markedly sprung ribs. The legs are strongly muscled, short and with firm ankles. The thin and long tail is without wool. The white or dork brown wool is long grown, even, and with dense fleece in the assortment C-D, 33-36 micron. Because of its adaptability, its high milk yield, early maturity and outstanding fertility the milk sheep has been exported to many sheep-milk production countries.
Weight (kg)

Vleece-Weight (kg)

Fiber diameter

(Microns)

Lambing percentage

%

Mature ram

110-130

32 - 38

Yearling ram

90-120

Lamb (male, 6 month)

65-80

Mature ewes

70-100

5-7

32 - 38

200-300

Lamb (female, 6 month)

45-60
Daily gain: 300 – 400 gram
Milk yield: 400 to 600 kg milk, 5-6 fat and 4-5% protein.